Firstly I'm sorry Mr T, you're looking enthusiastic on the internets.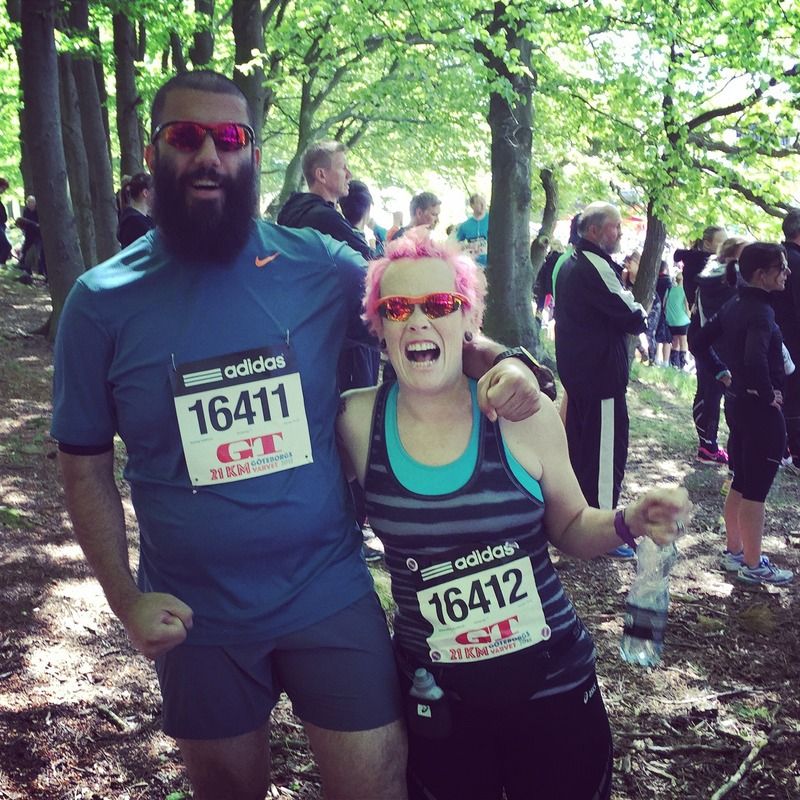 Saturday was awesome, and I'm still on a runner's high from it.  That being said it wasn't easy – and there's a few things that I'm really really thankful for (gosh this has a bit of an oscar acceptance speech about it):-
Mr T, for not minding that I went off chasing dreams of sub2 – and much advice/listening to me babble on for weeks about whether I was going to do it or not, if it was even remotely possible, et. al.
The in-laws for hanging with the kids  – THANK YOU!
A post from fit and feminist  about learning to be comfortable being uncomfortable. It struck a chord with me right after London Marathon and last week on reading again, it stuck with me through the race and helped me through a nasty stitch.
and finally a bizarre one – Dr Quench whom in letting me know that I needed to only intake 250ml water/drink during the race (he offers personalised plans based on factors unique to you, and the race conditions) made my whole water station stress (see Stockholm Half) a distant memory.
So we arrived in Göteborg on the Friday, stayed in an absolutely awesome hotel (Clairon Post, right outside central station) and managed to take the tram to get our numbers without any fails.
Saturday morning we met briefly with some friends who were also running, I grabbed a sandwich, then we set off down to the start. The race itself is the biggest half marathon in the world, and thus has quite a few start groups. We'd won places from our work – and so were starting quite early on in group 7 (with estimated finish times of 1:40-1:50). With that in mind we settled ourselves in the back of the group and chatted with a friend. Till it was time to walk towards the start. The atmosphere was pretty laid back, yet tense – everyone raring to go, we hadn't really especially warmed up before hand – I'm still of the thoughts that it's a Half Marathon – I'll be warmed up soon enough.
On the way to the start line I saw another friend, then boom! Over the start and we were off, the group had spread out quite a bit, so it wasn't too crowded. The first few kilometres through the park were quite nice, lovely people cheering on the edges, and a great atmosphere. I will admit that I did have my headphones in pretty much the whole way around – I was very very excited about listening to music though for some unknown reason.
The first hills went off without a hitch, somewhere near the first bridge, I realised that when my pulse was around 180 (just into zone 5 and around 85% max) I was 'comfortably uncomfortable' and decided it was a good place to be for the rest of the race, which worked really well until stitch hit around 13km just before the second bridge.
I met a lovely lady around 10km, who was aiming for a similar time, and we talked a little for the next 3km (until said stitch), she helped me quite a bit in keeping going/pushing – I wish I'd seen her at the end to thank her – I hope she got a good time – when we parted company at the energy station she seemed to sprint off into the distance!
The second bridge was tough, I usually find I hit a wall around 10-15km, and Göteborg was no exception. I had some time in the bank though thanks to flying downhill after the first bridge, so dropping 10 seconds a kilometre turned out okay in the end.
I didn't manage to get speed up again until there were only a couple of kilometres left. After the second bridge you go down onto the 'avenue' which is in the centre of Göteborg – so many many people, but it also a slight incline (thanks for that Göteborg) and quite tightly packed, which means you end up weaving if you want to try overtake, on top of that my feet had started being tired – and I was trying to avoid the nastier surfaces (a downside of five-fingers and having lots of ground feel).
Turning the roundabout at the top was a relief, though it was only brief as there was more incline before the end including another tight pedestrian bridge to take us back to the park, where a lot of people were walking and again I needed to weave to get past.
It opened up again in the park, and at 20-21km I changed my gps-watch view and saw that I still had just over 10 minutes left to get my much lusted after sub 2 hour race.  It was tough going, but I managed to find some energy and bursted off to the finish line. Running into a stadium to a finish is awesome, but also it feels as though one will never reach it – I dread to think how my form looked at that point, the last few km my heart rate had been reaching towards max, and once I had made it over the line I think I was close to max. I could hardly breath and was just hoping that the nurses didn't think I was in trouble.
After catching my breath (and remembering to turn off my garmin) I gingerly texted the number to get my results (Garmin said 1:59:25 but I'd stopped it late, and at 21.35km – segments show my time as 1:58:38). I was utterly delighted to get my text – I'd finished in 1:59:15 – SUB 2!
I am overjoyed, especially as I did lose about 10 seconds a kilometre from 13-20km – I don't at this point know really if I did go out too fast, or if it's just to be expected that I'd slow down later in the race (no negative splits for me!) on the slow- incline. I feel happy that I had time in the bank and was able to blow away my demons, but overall even if I hadn't got the time I'd wished for I feel like I did give the race my all, I did respect the distance this time, and I didn't listen to my mind as much.
So yeah, wooo hoooo!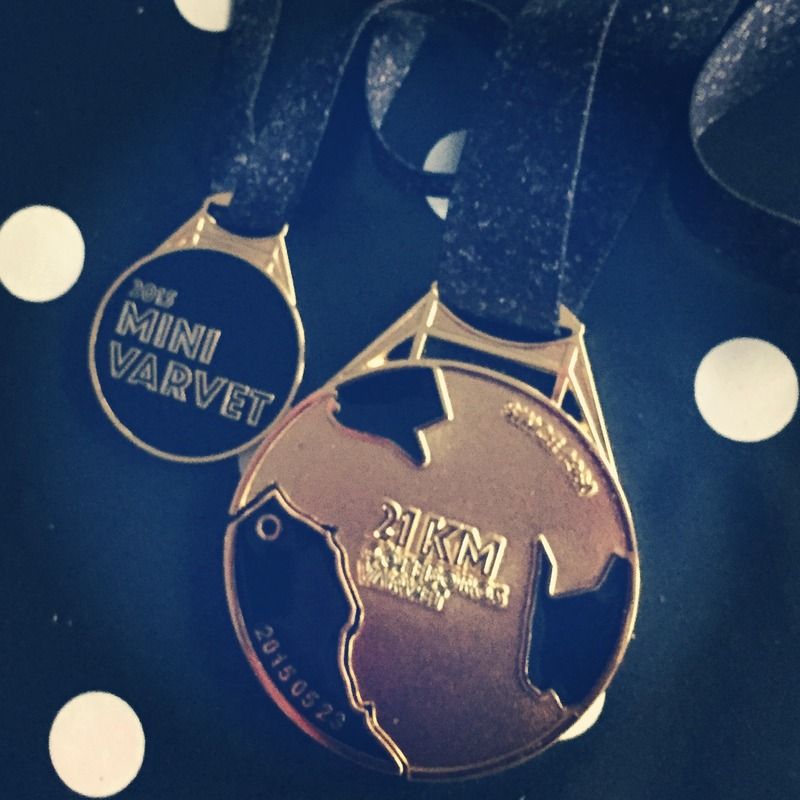 We did the mini-varv the next day with the kids (250m), though I carried Arthur for most of it.
Oh and I missed Eurovision. But I did eat a bloomin' delicious burger. 😀