Category:
Crafting
Hey Everyone! Hope you're doing well – again sorry for escaping off the face of the earth – it happens from time to time with a little baby… ahem toddler on your hands. She's grown so much, can hardly believe it's nearly been a year.
Anyway I thought maybe you'd like to see what I've recently been making, and you know… maybe try it out yourself.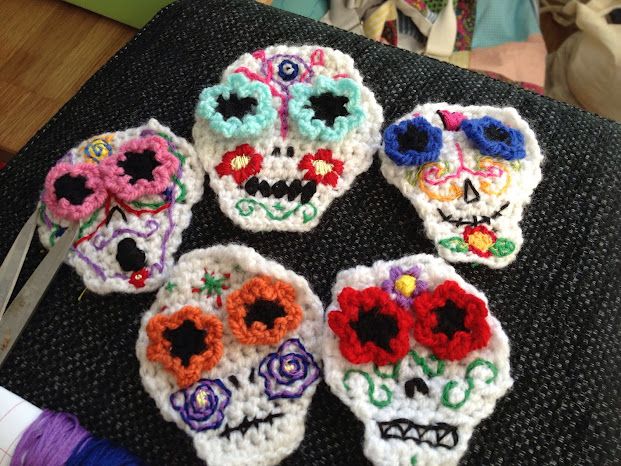 These guys! Crochet sugar skulls to be exact – you can pretty much do whatever you want with them – garlands, sew them onto things.. the only limit is your imagination really.
So what do I need Gem?
4,5mm hook or there abouts to get the desired gauge.
white wool, black wool, coloured wool (I used acrylic 4ply leftovers)
Embroidery Needle plus a needle for sewing in the ends of the crochet.
Embroidery Thread in various colours.
White skully:-
Row 1chain (ch) 8single crochet (sc), turn and work into chain.
Row 2 ch1, 2sc in first, 6sc, 2sc in last (10 stitches)turn
Row 3 ch1, 10sc, turn (10)
Rows 4-onwards, Continue increasing  for one row, sc the next until you have the desired size, of top of skull, then do several rows just (chain then sc to end and turn) normal, before starting decreasing to the jaw – I decrease in the first 2 stitches and last too stitches.
Once it's looking skull shaped tie off, and sew in the ends.
Eyes
I start with a magic circle (or you can chain 4, join and work into the hole in that)
Black:-
Row 1 6sc into magic circle (or around 4ch loop)
Row 2 Change to desired flower colour and ch4, slip stitch into the black, repeat going around, slip stitch into first, and tie off. Sew in one end, use other ends to attach to the skull where desired.
Embelishments:-
Use embroidery thread to sew the details onto the sugar skulls – Google is a great inspiration!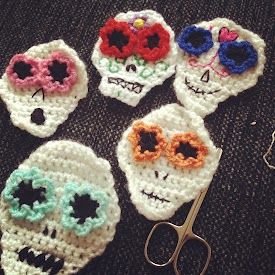 Progress shots of the skulls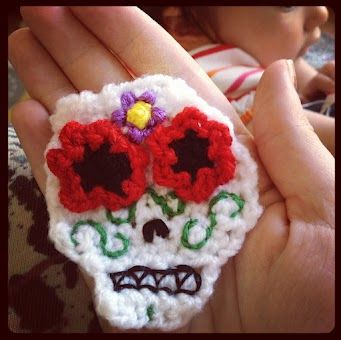 Prototype finished.
I've sewn mine onto blankets as embelishments, but really use your imagination, I think they would make great bunting, in which case you can incorporate them into a long crochet chain.