Yesterday's nesting was Cottage Pie, a good ole english favourite.  With my 1,5kg of mince I was able to make 4 of these bad boys – 3 of which entered the freezer of no return.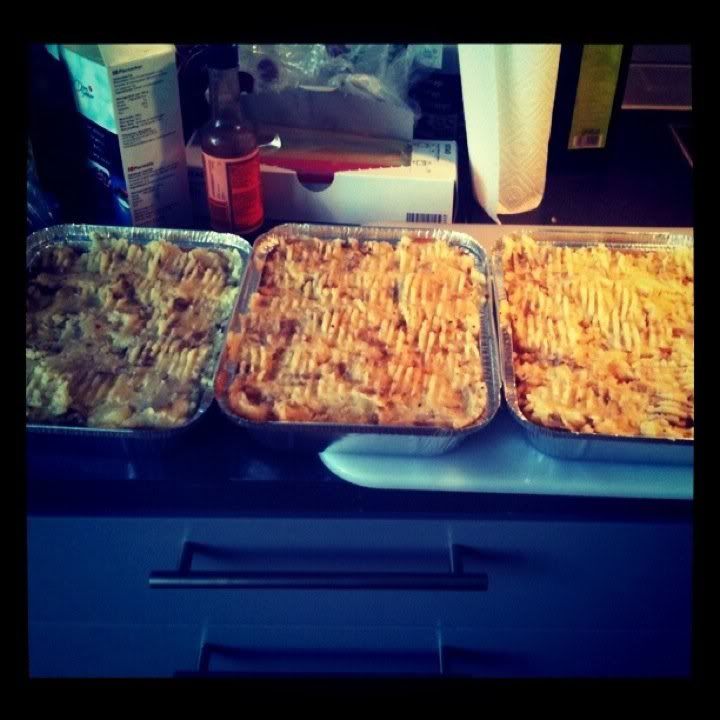 I pretty much just bodge when it comes to making this but here's a rough recipe with more sensible numbers!
500 grams beef mince
1 onion chopped into small cubes
2-3 carrots chopped into small cubes
oil or frying method of choice
salt and pepper
water
Beef stock cube/stock/equivalent
Approx. 500grams of  peeled potatoes – though perhaps a little more
butter/milk for mashing the potatoes
Grated Cheese if you fancy for the top
* Put the spuds on the boil with a dash of salt in the water (about 20 min or so to be ready)
*fry the onions and the beef mince, once browned add the carrots, the beef stock/or cube plus water to cover the beef and simmer while the potatoes finish cooking.
*once the spuds are done, drain the water and mash with milk, butter, and salt and pepper to taste.
*in your ovenproof dish, spoon the beef into the bottom, then add the potatoes over the top.  Sprinkle with cheese if that's your thing – you could also add sliced tomato if you fancy.
*cook in the oven for about 20min around 200degrees centigrade, or until the beef juice is bubbling/the cheese/potatoes are browned.
Enjoy!