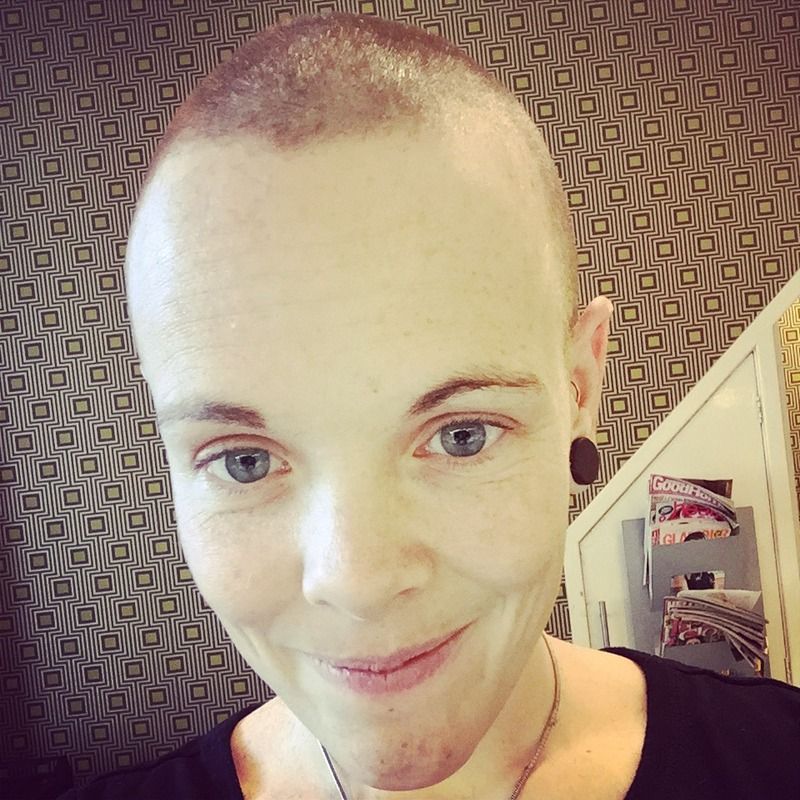 So I forgot to update, this happened in December – I reached my 1500 fundraising target before christmas, so christmas was bald.  It's actually quite liberating to not have hair, it certainly saves time in the morning. Right now it's maybe an inch long, and since I've reached 2000 pounds before the marathon, I'll be dying it and styling it in a mowhawk. The initial plan was to go blue, but there is another inspiration that I wanted to bow my head to (will explain in my next blog) so it won't be blue. But it will be bright!
So 7 days! till London, and I'm utterly terrified.
Partially wondering why someone who hates crowds decided that London would be the ideal first marathon, partially the fear of 42km when the longest I've been out for so far has been 30.  Deep down I know I've got this. I'm hoping to reach my goal time of 4:30 without too many problems, but still – utterly butterly terrified.
I kind of wish now that I had more people there to cheer me on, though experience tells me that the disappointment of not seeing people is worse if you know they are there, than if they simply aren't.  On the other hand there will be my charity, the travelgroup, and then also women from an online running group I'm in (many many women). But then there will be seriously loads and loads of runners. Erk.
I'm still trying to decide if I take my rucksack with water/energy in it, as past experience (bitter bitter experience) tells me that I get too scared to stop when there's too many people, and there's also the thing where I'm quite partial to a milkyway on long runs.  I don't think really it's going to affect my time, or anything as all my long runs have been with said rucksack, but at the same time it would be nice to run without.
Aye. Much anxiety there. Though there is an exam for my nursing degree on thursday which might just about keep me occupied till then.
« My mother, my inspiration, her story. (trigger warning: miscarriage, loss) The London Marathon hair, this is for Emily. »