#pinksparklesforemily
As I type this, the dye is bought – and I'm just waiting for a quiet moment to try it out. I'm actually quite scared about it, as it's been 15 years since I had bright hair.
There's a woman who has inspired me a lot. I met her on a birthing board I joined when expecting Arthur.  As we shared our stories hers stood out – her baby was going to be through a surrogate, as she, Emily had a lung transplant a few years prior due to cystic fibrosis.  Emily always had something inspirational to share, a great positive outlook on life and we spoke several times through facebook about different things, and her advice was always spot on.
Sadly, last year Emilys' health began to take a downturn, and though she recieved a second lung transplant she passed away last year.  My wonderful mayflower friends have since then donated and fundraised for the charity she co-founded (live life then give life), and some of them will be running the Leeds Half Marathon in may, in her memory.  I'd love to have been there with them, but unfortunately it's in the middle of my term time, boo.
So my hair is for Emily, in her memory – an amazing star in the sky.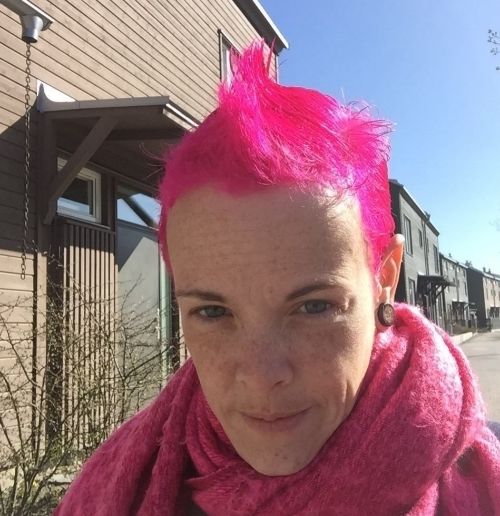 If you'd like to donate to live life then give life you can through:- This link to my wonderful friend Hilary Hall's Just Giving page. Hils is running the half marathon in May – and it's going AWESOME with her training!
As you already know, I'm running for The Miscarriage Association – if you'd like to support my London shenanigans then my link is right here!